The Wisdom of Sacrifice
Over the last two weeks, I've heard lots of deep concern and appreciation for the medical personnel who are on the frontline confronting the Covid-19 epidemic, risking exposure and literally putting their own health—and that of their family's—at risk. I've also had conversations with physicians about it, and I'm truly inspired by them. The three I talked to have said, "I know that as a doctor I will most likely contract the virus. It is the nature of the current fight against the virus that doctors are taken out in waves as they contract it, but all of us who get better and can return to work, we shall have immunity and the ability to treat infected people with no further concern of contracting it again." Some doctors who have fallen ill, they almost nearly hope they have contracted the virus so that their bodies shall build resistance to it so that they can return to treating patients without further worry. 

All of these conversations are making me think about the nature of sacrifice. The word sacrifice comes from the latin sacrocere which has the same root as the word sacred. Sacrifice originally meant to make sacred, to make holy. To give something up of great material value on behalf of a larger or transcendent value. A sacrifice is a signal that what you're making a sacrifice for is more important than what you are offering up—and what you're offering up may be the most valuable thing you have.

In the early biblical times, the Jews didn't eat meat much because meat was so expensive, especially beef. When the ancient Jewish people offered up a fatted calf to Yahweh, they were offering up the most valuable thing they had for the sake of being in right relationship with their god. This past week, all around the world, people have been called upon to give up their independence, to sacrifice our freedom to move about wherever and with whomever we want, and instead sequester ourselves at home for the sake of curbing the spread of the coronavirus. Sure, you may say, most everyone is staying at home to protect themselves and their loved ones. Yes, and. 

I'd like to suggest, in the words of the late UU minister A Powell Davies: "There's a sort of duality in each of us, a conversation within our innermost thoughts. Some of us will call the nobler voice within to be the voice of God, not literally, of course, but in source and spiritual vitality. Others of us will call it our better nature. But no matter what we call it, its presence is a firm reality." We cultivate our inner lives, and thereby raise the quality of all our living, by giving specific time and attention to discerning and participating in this better nature of ours. I call this cultivation of our inner thoughts with our heart and spirit, spiritual practice. And, as Davies says, "To the extent that we see the world more clearly and ourselves and our part in it more plainly, we gain wisdom, clarity, sureness of direction; and this, in turn, relieves the tension that the world imposes on us—much of which is due to vacillation and uncertainty — and brings us closer to serenity."

Who would have thought that in the year 2020, the world economy would be brought to its knees. It's really scary what's happening—all the uncertainty and anxiety. In today's American culture, sacrifice seems foolhardy. Why ever give up something of especial material value? But in another perspective, one where there is a faith in love, a deep affirmation of the worth and dignity of all people, a recognition that we are all interconnected, how can we not give the best of ourselves and what we have for the sake of others, especially others who are suffering?

For us today and in every era, what is more important than money? What is more important than our independence? What is more important than even our own health and well-being? In this time, we are all called upon to make sacrifices.

I've enjoyed listening to exuberant expressions of gratitude at 8pm. This outpouring of spirit celebrates our health care workers. Let's also think about who also is putting themselves at risk of exposure each and every day: grocery store staff, pharmacy workers, truck drivers, garbage collectors, people who harvest our food, prepare it or work at the factories to process or wrap it. It's also a time to honor the service of police and firefighters—and firefighters are also EMTs who do ambulance duty. I am grateful for all these people who are leaving their families several days a week for the sake of the wellbeing of the rest of us. This a time to reflect on the various levels of sacrifice that so many people are making, on behalf of our common good.

We're in the middle of a transition that will affect our society for the rest of our lives. The way we approach it will shape who we are as individuals and as a wider society. White Eagle,  an indigenous Hopi leader wrote a week ago (I got this from adrienne marie brown on social media): "This moment humanity is going through can now be seen as a portal and as a hole. The decision to fall into the hole or go through the portal is up to you. If they don't repent of the problem and consume the news 24 hours a day, with little energy, nervous all the time, with pessimism, they will fall into the hole. But if you take this opportunity to look at yourself, rethink life and death, take care of yourself and others, you will cross the portal."

A friend said, "It's like our whole culture is going through a birth canal, and what is being birthed is a deeper awareness of how interdependent we are." At least those of us who are willing to look at ourselves, to rethink life and death, to commit to caring for ourselves and others—it is like going through a long birth canal, from which we will emerge grounded in love.

What do you want to make sacred at this time? What greater good gives your life purpose and meaning? What is worthy of your time and attention and resources? Where are you called to sacrifice at this time? 

I talked with a father of retirement age whose son is a doctor leading the response to COVID-19 at a local hospital. He had been asked what he'd do if his son gets extremely ill. The father said that he would go and tend to his son, risking his own health. Sometimes we are called to sacrifice what is materially most precious to us.

This is a time to discern what we are willing to sacrifice for. Such decisions are being made millions of times all over the world. May we help midwife a world where there is a greater recognition of the wisdom of sacrifice. May we cultivate our own spiritual practices to live fully and with love at our side, love infused in every cell of our body—so that we embody this wisdom. 
Taking Heart Amidst Disappointment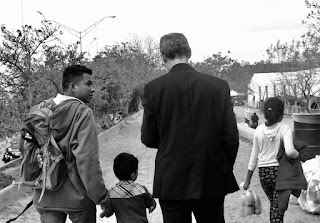 This morning, February 14, I attended the hearing for Mario and his two younger children at the Brownsville immigration court, essentially a large tent right next to the bridge to Matamoros in which rooms have been created with television screens. I knew that the judge and interpreter would not be physically present—they were at the immigration court in Harlingen, 25 miles away. A video camera would be on them so they would be broadcast on the screen.

Even though I agreed to be the sponsor for Mario and his kids if they were granted asylum, I was not allowed in to attend Mario's hearing. The lawyer, Cathy Potter, who took this case on as "low bono" had thought they would let me in. Because they didn't, she gave me her car keys and I hightailed it to the Harlingen courthouse. Two people from out of town wanting to witness a case in person had already been told that they were not allowed in. Because of my relationship with Mario and his wanting me to be there, I was allowed in.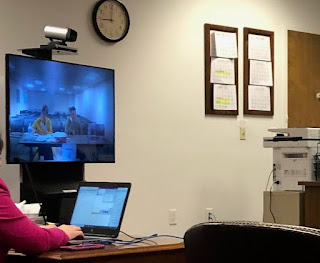 I sat on the far side of the room so I could see Cathy and Mario on the television screen. There were at least 25 empty chairs behind them. I was the only person in the room who wasn't the judge, the translator, or the lawyer representing the government. When the lawyer for the government spoke, the video camera was set on her, and I could be seen in the background. Mario waved at me. I was glad he knew that I was watching what was happening.

I was impressed by how Cathy asked Mario questions to get his story out. He is from a small town in Honduras but found a good job in the city of Pimiento. He worked at a clothing factory. He was appreciated and hardworking. A man that Mario knew from much earlier in life had joined the gang MS-13 and moved back to Pimiento. This man came to Mario's house with two companions and requested that Mario sell drugs at his factory where over 2,000 people worked. Mario refused and his acquaintance said he had a week to think it over–and if he didn't agree he and his children would pay the consequences.
It was a heartbreaking and terrifying story. Mario broke down in tears when asked about moving away from his extended family. The government's attorney asked Mario several questions and then it was over. There was a recess at the end of which the Judge said she would give an oral decision. I drove back to Brownsville and waited outside the Brownsville court to learn the judge's decision. As I waited, I met seven people from all over the country, people who had come to help and witness what is going on.
When Cathy finally exited, she told me that Mario's request for asylum was denied. She said that the judge acknowledged that she believed Mario but the law requires a certain amount of evidence to grant asylum. Cathy told me from the very beginning that very, very few migrants meet this bar. The bar to demonstrate persecution is so very high—and very few people can meet this, even people who have been kidnapped and hurt. She also said that most go into these hearings without a lawyer, and no one who represents themselves has been known to win their case. This has been the experience of many of Mario's neighbors. Some told me that they had a tremendous amount of evidence and that they were still denied—but they didn't have a lawyer. The law requires a certain type of argument and demonstration of persecution—and this is why the presence of a lawyer makes it 17 times more likely of winning the case–and still the probability is very low.
Once Mario and his kids were back in Matamoros, all I could do was give them hugs, talk with them, tell them I'm sorry. I gave Mario some money and told him that I will stay in touch. I will reach out to the people I know in San Miguel, a city in a relatively safe part of Mexico. He needs to find a place to where he can move, find a job and live without worrying about his family's safety. I'm deeply saddened that entering the United States is not an option for them. I'm angry at how the U.S. immigration law works.
Mario is a hardworking individual, communicates well, and demonstrates a deep commitment for his children. I believe he can find a new life in a new place, but it's identifying where and taking the leap that he now needs to do. He wants to file an appeal so that he can stay in the camp, but that will most likely simply delay the inevitable.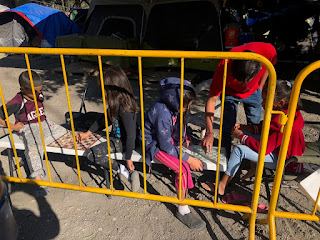 Until the laws change, refugees with real reason to leave family and friends to seek a new life will be stymied at the U.S. border. Cities like Matamoros will have areas that are essentially concentration camps. Although the conditions are better than when I visited in October, the people living there are living in a dead end. I admire how they hold on to hope and how, at least in Mario's neighborhood, the people are taking care of each other.
I encountered a staggering number of people from all over the United States wanting to be of help, both in meeting the basic needs of these people and in changing the laws to be more humane. I met people from many different organizations, including Angry Tias and Abuelas. I talked political strategy with a number—more pressure needs to be applied to our federal representatives to end the Migrant Protection Protocol. I take heart at the numbers of people so concerned about this issue that they are going down to the border themselves.

So I return with grave disappointment that Mario and his children cannot enter the United States while I take heart there are people with courage and resilience both within the camp and outside, committed to finding a more humane way forward.

Love with Courage,
Alan
People at the Border Need Our Prayers and Our Support
Mario has now lived in a tent with his 4 year old son Steven and his 9 year old daughter Belen for six months. They are lovely people from Honduras seeking asylum but have been stuck at the border since August. His wife and eldest daughter are in Dallas, also awaiting an asylum hearing. They crossed just before the Migrant Protection Protocols were instituted. Mario and his younger two children came just after. His second court date will be February 14. His wife's is Feb 23 in Dallas.
It has been a challenging time at the border. When Mario first arrived in August, there were maybe 200 people there. Now there are nearly 3,000. These people are at the mercy of humanitarian workers, most of them coming from Team Bronzeville.
When I met Mario, I also met several of the people who live in tents in his immediate area. They were from not only Honduras but also Nicaragua, El Salvador, and Guatemala. These people who arrived at about the same time have been a community to one another, providing security in numbers. But it hasn't been easy. His children can't attend school. They get some lessons from volunteers who come over the border on weekends.
In December, nine year old Belen got so sick with a respiratory infection that she ended up in the hospital. It shouldn't be any surprise since her home is a small tent laid out on concrete pushed up against other tents. When it rains hard, the tent floods because there is nowhere for the water to go but collect. It has been a nightmare for Mario and his family. And yet he expresses deep gratitude for the care and the attention he has received from humanitarian workers. He constantly names his blessings.
I know these things because I helped him get a phone and I've remained in touch through WhatsApp. But it costs 10 pesos (55 cents) to charge a phone for an hour at the nearby little store. Sheer extortion. It costs the same if you wish to use a toilet in one of the nearby restaurants. Otherwise there are five port-a-potties that serve what is now nearly three thousand people camped out right across the border from the United States. 
The power of telling his story and others has resulted in generosity. A friend of mine said, "Have you considered giving Mario a solar-powered charger?" And then that friend said, "Take mine—I will get another one." But there's generosity on a much larger scale as well now that This American Life and 60 Minutes have broadcast their own stories: Team Brownsville is the humanitarian organization that is heroically helping as many of the migrants as they are able. They serve two meals a day and they are creating a clean water system for the area. It costs $50,000 and now they have the money in hand. Their current projects are at their website here. Please take a look and consider whether you'd like to be of support. 
When immigration activist Betty Alzamora returned to Matamoros, she gladly took with her a few gifts from me and our congregation at Unity Temple. From the congregation she brought cards/letters that were created by children in the religious education program at Unity Temple. It brought tears to my eyes to see Betty's photo of Belen looking at these cards, holding the blue binder that I and others here have held in our hands. Belen was charged to give out the cards to other children, though many of the children she has known have left. Their parents have sent them across the Rio Grande in hopes that they may know a better life than what they believe they can provide for them. Truly heartbreaking.
In November, Illinois State Representative Lisa Menendez introduced a House Resolution calling upon the Illinois U.S. Representatives and the U.S. Congress to end the Migrant Protection Protocols that has created this crisis and to defund ICE. I joined Mony Ruiz Velasco in testifying in support of this important resolution—and it passed! When the federal budget came up, it included increases for ICE and the border patrol, not less. A few brave representatives opposed the budget for this reason. But even my U.S. Representative, Danny Davis, voted for it. There is still a lot of organizing to be done.
I keep the people on the border in my prayers and encourage you to do the same. But don't just pray, share the stories, participate in actions to change federal policy to be compassionate rather than inhumane, and contribute to or volunteer with humanitarian organizations that are making a real difference in people's lives who currently have no where to go. 
Border Reflections
It's been three weeks since I returned from the border. On my last day there, I bought a phone for Mario, the Honduran man his 4 and 9 year old children with him and whose wife and eldest daughter are in Dallas. They left before him after Mario's brother-in-law was killed and they feared their daughter would be kidnapped into trafficking. But then the Migrant Protection Protocols were instituted and that has kept Mario and his two younger children separated from his wife and eldest daughter.
I hired a lawyer for him and he went to the makeshift court in a large tent the following Monday. The judge was shown on a video screen. An interpreter was on the telephone. After the hearing he and his two children were given a second court date in late February. He's been stuck at the border for nearly four months and has another four to wait out. Hopefully the lawyer I have retained can help him reunite with his family, as a lawyer makes it 14 times more likely to be granted asylum. However, the likelihood is still very small.
I am in touch with Mario and his neighbor Karla who has a 1 year old. Karla and her family had the same court date and so I've retained the lawyer for them too. Their greatest concern is the cold—and Karla's baby's health. Dylan has been sick with a cold the last several days. It is relatively cold at night and she doesn't know how to find care for her son.
Their greatest expense is to keep their phones charged. The local merchants charge 10 pesos—50 cents—to charge a phone for an hour. Utter extortion from people who have virtually nothing.
They and the 2,000 other migrants in Matamoros rely on the kindness of humanitarian workers who bring food, water, clothing, blankets, and shoes. Team Bronzeville is raising funds to not only keep feeding the migrants but to create a water purification plant to provide clean water to everyone there.
What to do? Some of the clergy who went with me are organizing a trip to support the humanitarian efforts to help feed the migrants. We certainly could send a UTUUC delegation to do this in collaboration with them.
But the desperate conditions for thousands and thousands of people up and down the border won't get better until the Migrant Protection Protocols are ended. This will take pressure from many sources.
Illinois State Representatives Lisa Hernandez and Rita Mayfield were part of our delegation. They have submitted a resolution to the House to call for the ending of the Migrant Protection Protocols and call upon the Illinois delegation to the U.S. House and Senate to do the same.
There will be opportunities to address this here in Chicago. And I'm sure there will be another opportunity to travel to the border again to put pressure on the U.S. Representatives, but I want to do this only in collaboration with others where we can amplify each other's power. 
Maria Zamudio, a journalist for NPR, also joined us on this delegation. Click here for her third story. 
Reflection from the Border – Day 3
Over our three days, our multi-faith delegation had plenty of opportunity to pray with people one on one. Yesterday after spending several hours in Matamoros, we held a collective prayer vigil next to the bridge shortly before leaving. This trip has been an extraordinary experience, especially traveling with such thoughtful, engaged colleagues, government leaders, and immigration activists.
For our prayer vigil, Rev. Eileen Wiviott of the Unitarian Church of Evanston led a beautiful song that said, "Where you go Beloved, I will go. Your people are my people." Because I knew the most Spanish, I explained in Spanish that we were there to hear the stories and witness what the impact of the Migrant Protection Protocals, only to discover there is no protection provided for migrants seeking asylum. Rev. Ben Lynch of Fair Oaks Presbyterian prayed for strength and peace to be among the people. Rev. Eric Biddy of St Christopher's Episcopal church prayed for the children's health and well-being. Rabbi Max Weiss of Oak Park Temple spoke of the current holiday of Sukkot and how it calls for the protection of all people with adequate shelter. Rabbi Ari Margolis of Congregation Or Shalom in Vernon Hills then sang a Jewish blessing from the Sukkot celebration. Rev. Scott Onque' of St Luke's Missionary Baptist Church in Chicago and Director of Policy at Faith in Place prayed for God's blessing on the people here to know they are not forgotten. Rev. Marshall Hatch Jr. of New Mt Pilgrim Missionary Baptist Church and the Maafa Redemption Project prayed for God to lift the voices of those on the margins and declared that in God's perspective a government without justice is no more than organized crime. Rev. Ira Acree of St John's Bible Church led us in singing "Ain't Gonna let Nobody Turn Us Around" and called for the end of the Migrant Protection Protocols.
Our multi-faith delegation was led by Mony Ruiz-Velasco, Anna Marin, and Betty Alzamora from PASO: West Suburban Action Project. Our delegation also included two Illinois State Representatives, Representative Lisa Hernandez from Little Village and Representative Rita Mayfield from Waukegan and immigration rights leaders Lawrence Benito from the Illinois Coalition for Immigrant and Refugee Rights and Dulce Ortiz and Megan McKenna from Mano a Mano serving the north Chicagoland area. Paul Goyette documented our trip through photographs.
As we finished the service, a woman fainted, apparently of heat exhaustion. She was unable to walk. She looked like she was in severe distress. Several people sent for medical help but it was 45 minutes before an ambulance arrived.
Just before we left the encampment of migrants, we unfolded banners that said End MPP meaning End the Migrant Protection Protocols that has fostered this refugee crisis. The other banner said Abolish CDP because the development of this force treats human beings in search of a better life as criminals.
We then began to sing Wade in the Water as we walked across the bridge back into the United States. On the very first street corner, the banners were unfurled. Two of the local immigration activists were in tears. They never imagined seeing a clear call to end the policies and procedures that dehumanizes so many people.
Then began the press conference. Chicago WBEZ reporter Maria Zamudio traveled with us. Her amazing story can be heard at https://www.npr.org/local/309/2019/10/17/771001018/chicago-area-activists-protest-conditions-at-the-border  She tells our story so eloquently.
For me, this trip was an extraordinary opportunity on several levels. First, to see for myself in a multi-faith circle of trusted colleagues the impact of what is going on at the border. Second, to bring beloved a broad range of colleagues in closer relationship with immigration justice leaders that have been so inspirational to me. Third, to witness the inspirational witness of Team Bronzeville that now feeds 1,000+ people. And lastly, to develop a circle of relationships that gives us hope that our collective voices matter in the face of horror occurring at the border. 
More reflection to come as well as specific ways to be of support!
Reflection from the Border – Day 2
Yesterday I returned to Matamoros with our multi-faith clergy delegation from Chicago. When I encountered Mario again, he was with his son and daughter. I asked him about his tent and he offered to lead me there. To engage with his daughter, I said in Spanish, "Can you show me the way to your tent?" When she didn't answer, her father said, "Donde esta nuestra casa?" It suddenly hit me: they referred to their small tent as their home.
Betty Alzamora and I followed him through a massive conglomeration of tents and clotheslines to where he and his children live. Their tent was squished between two other tents. A couple dozen people came out of the tents curious about the priestly looking figure that just entered their living space. Betty and I explained why we are here—we want to witness the reality of what's happening just across the border and hear the stories of people who are living there. We are here to pray with them and let them know there are people of faith aware of their circumstances and will work to alleviate them.
I knew Mario is from Honduras. What surprised me was that this spontaneously created neighborhood had people also from El Salvador, Nicaragua, and Guatemala. These people were literally taking care of each other, looking after one another's children and providing one another safety. Betty and I spent two hours listening to their stories. All of them fled their homes in fear for their lives or the lives of their children. Some had lost family members to violence at home. Others knew their daughters were at significant risk of being kidnapped into the sex trafficking pipeline. Still others had come forward as a witness to violence and were told they would be killed if they didn't leave their home. While they felt safe in this crowded community, they feared venturing out into Matamoros—it is known to be one of the most dangerous cities in Mexico. The U.S. State Department ranks it "Do not enter" for U.S. citizens, the same classification for Syria and Afghanistan.
Now all these people in seek of protection are finding themselves stuck between the Rio Grande river and one of the most dangerous places on earth. All they've got is a makeshift community without running water. The "Migrant Protection Protocols" of the Trump administration is literally putting people into danger. These people are obliged to fend for themselves in desperate conditions. All of them have a court date, at least three months of waiting that often results in either waiting for another court date or outright refusal.
The stories are utterly heartbreaking. These people are largely dependent on the generosity of humanitarian efforts. Last night our clergy delegation heard from the leaders of Team Bronzeville. Fifteen months ago they organized to provide two meals a day to the migrants stuck at the border. There were only 30 people there at that time. Six weeks ago there were 300. Now, there are over a 1,000 people. They do what they can. I will share more soon about the water purification system they wish to install and other ways they are seeking to provide for the burgeoning number of people in their backyard.
This is a refugee crisis in the making. Today I will cross into their camp a third time and I will catch two flights back to Chicago this afternoon.
There is a lot for me to process right now. I will share more in time.
Warmly,
Alan
Reflection from the Border – Day 1
Dear Friends,
I am currently in Brownsville Texas with a multi-faith clergy delegation, two state lawmakers, and the leaders of PASO and Mano a Mano. Yesterday, we crossed the border where over a thousand migrants seeking asylum are camped out in tents. The tents are pushed right up against each other because there is so little space between the border and the city of Matamoros, which is known to be very dangerous. It was 93 degrees Farenheit yesterday afternoon.
What is most striking are the hundreds of children, some playing with such beautiful sparks in their eyes and others who lay listless in the arms. I have enough facility with Spanish that I introduced myself to several different families. I met many people from Honduras, Nicaragua, Guatemala. I met one family from Guerrero, Mexico. All of the families had the same story of fleeing violence in their community—all of them at a loss of where to find safety other than seeking asylum in the United States.
I spoke at length with Mario, a father with a 4 year old and a 1 year old. I was struck how he repeatedly kissed his four year old. And when he was talking to me, his son would kiss him with an affection that communicated to me that what they have is each other. His wife and oldest daughter are in Dallas, where his wife is working as a cleaning lady. He has not seen her for six months, but he does intermittently call her when he is able to use someone's cell phone. I gave him my phone to call her—it was a Dallas number. He talked for 12 minutes and then gave me back the phone extraordinarily appreciative.
I prayed with several different people, all of whom came to tears. Today I will go across the border again and talk to more people and help Mario with filling out papers online he needs for asylum. However, the current policies and procedures of the "Migrant Protection Protocols" are living up to the name that everyone has for them "Remain in Mexico." Unless the United States government changes the policies, I don't have any hope that Mario and kids will be able to join his wife and older daughter. The most I can offer him is that there are people like me who know his story and will do what we can to change the laws.
Early this afternoon, our clergy delegation that includes two rabbis, two UU ministers, four Missionary Baptist ministers, a Presbyterian minister and an Episcopalian priest, we will hold a prayer service for the people who are migrants there and then in the late afternoon, on U.S. soil, we will hold a vigil and demonstration with the local immigration rights leaders to put pressure on U.S. Representative Fileman Vela (D) to intervene and stop returning seekers of asylum to such a crowded area on the outskirts of one of the dangerous cities and regions in the world.
Please keep me and my colleagues in your thoughts and prayers. And please keep the many migrants in your thoughts and prayers–and act on them!
Warmly,
Alan
Define American
Two weeks ago, I met Jose Antonio Vargas, a Pulitzer Prize winning journalist who is undocumented.
He grew up in the Philippines until age 12, when his mother put him on a plane to come to the United States and live with his grandparents about a half hour south of San Francisco. This was 1993. He hasn't seen his mom or his siblings for the last 24 years because of his "illegal" status, and his mother can't get a visa to visit because her poor income makes her high-risk in the eyes of those who grant tourist visas.
Jose Antonio arrived and entered the sixth grade. He studied hard and to fit in, he listened closely to television shows, and would repeat phrases for hours to learn how to speak American. In the eighth grade he memorized words he couldn't even pronounce and ended up winning the spelling bee, on the word indefatigable.  At age 16, he took the green card his grandfather had given him to the DMV to apply for a drivers license. The clerk whispered to him, "This is fake, don't come back here." He went home to confront his grandfather and learned the truth. All of his documents including his social security card were fake.
His grandfather assumed Jose Antonio would eventually become a citizen by marrying one. But in 1999, at age 17, his class watched a video about Harvey Milk, the gay San Francisco city council member who was murdered. In the class discussion that followed, Jose Antonio came out of one closet. While it was tough being the only openly gay student at his high school, it was far easier than to reveal his immigration status. The first person he told was his choir director when she announced that the choir would tour Japan. The next week she announced that the choir would tour Hawaii instead. Many years later she told him, "I wasn't going to leave any of my kids behind." In time Jose would tell certain teachers, the principal, even the superintendent who he became close to. And they all mentored and guided him as he navigated through San Francisco State College and into a career of journalism that would lead him to interviewing some of the most famous people in the country.
In 2008, while working with the Washington Post, he was on a team that won a Pulitzer Prize for their reporting on the Virginia Tech shootings. When he called his grandmother to share with her the news, the first thing she said was, "What will happen if people find out?" He cried in anguish after that call. The following year he worked at the Huffington Post. His HIV/AIDS series was made into a documentary. And he got an exclusive interview with Facebook's Mark Zuckerberg for the New Yorker. But the more he achieved, the more scared and depressed he became.
He read about undocumented Americans walking in protest of the current immigration laws and calling on a more humane policy toward the undocumented. He reached out to talk with them. He marveled at their courage claiming an American identity while the law and wider society saw them as illegal, unwelcome. He credits these courageous young people for giving him the courage to join the efforts of changing the conversation in the wider culture about what it means to be an American.
In 2011 even though he managed to get a new drivers license with fake documents that wouldn't expire until 2016, he decided to come out publicly. The New York Times Magazine ran his story entitled "My Life as an Undocumented Immigrant." He said,
I'm done running. I'm exhausted. I don't want that life anymore. On the surface, I've created a good life. I've lived the American dream. But I am still an undocumented immigrant. And that means living a different kind of reality. It means going about my day in fear of being found out. It means rarely trusting people, even those closest to me, with who I really am. It means keeping my family photos in a shoebox rather than displaying them on shelves in my home, so friends don't ask about them. It means reluctantly, even painfully, doing things I know are wrong and unlawful. And it has meant relying on a sort of 21st-century underground railroad of supporters, people who took an interest in my future and took risks for me. So I've decided to come forward, own up to what I've done, and tell my story to the best of my recollection. … I don't know what the consequences will be of telling my story. I do know that I am grateful to my grandparents, my Lolo and Lola, for giving me the chance for a better life. I'm also grateful to my other family — the support network I found here in America — for encouraging me to pursue my dreams.

Jose Antonio Vargas
He used this article and the attention he received to launch a powerful nonprofit called Define American. As the website says, "It's time for a new conversation about immigrants and identity in America. Why do people come to this country? What does it mean to be undocumented? What does it mean to be a good citizen?" This website is designed to support undocumented young people, to help them come out and claim who they are, and to spread greater understanding of their plight. The films on the website are extraordinary, including one he made for MTV entitled White People.
This month, my congregation at Unity Temple is exploring the theme of abundance: What does it mean to be a people of abundance? When I think of what it means to be American, I think of abundance. Isn't our nation one of great abundance, an abundance of resources, an abundance of opportunities, an abundance of hope and courage in the hearts of so many? Last weekend we celebrated Veterans Day, and the ideals on which the country was founded, ideals that many many people have committed their lives to defend. And soon we will be celebrating Thanksgiving, a time when we recognize the abundant blessings we enjoy as Americans. It is a time to remember the American story.
But there is a shadow side to our nation's story. Our national identity was forged on the exploitation and decimation of the native people who originally peopled this continent and the enslavement and exploitation of black skinned people who didn't immigrate to this continent but were brought here in chains. The shadow side of our national story runs deep. And it emerged from the base impulses of greed, of fear, of hatred that dominated, diminished, and destroyed the humanity of so many. But this doesn't have to be the end of the story.
The redemptive story of our nation is how over time, our culture has at times claimed the better angels of our nature to lift up the humanity of all people.
At Unity Temple, we believe in the worth and dignity of every individual. And this calls us into hard conversations about racial inequality and the ongoing struggles for many people of color. It calls us to understand what it means to be gay, trans and what it means to be human in all sorts of contexts. As Unitarian Universalists, we have had a very real impact on the opening up of American culture to affirm and accept gay, lesbian, bisexual, queer, and transgender people. In our lives. Even the younger generation has witnessed how real shifts are possible.
Over the past few weeks and months, I'm wondering if we are witnessing the beginning of a deeply significant shift, as more and more women are coming forward sharing their stories of sexual harassment, abuse, and rape. There's something extraordinary happening in our wider culture that even as we have a president who has celebrated his own sexual predatory behavior and gotten away with saying the most misogynist things, many women are speaking up about their own experience, joining the #metoo movement, demonstrating just how pervasive are the violation and objectification of women's bodies.
Two weeks ago, the speaker from the Unitarian Universalist Service Committee suggested that we are witnessing the last gasps of white male supremacy. I hope so, but these gasps come from not only decades but centuries of entitlement, oppression, and secrecy.
The reality of sexual abuse and sexual harassment has been a part of the shadow of civilized society for centuries. I pray that this cultural moment is a real turning point where victims of sexual predatory behavior can speak up and be taken seriously. For the problem of sexual predatory behavior is not limited to a few famous powerful people.
Ultimately I believe Audre Lorde has it right, "Your silence will not protect you." Wherever you are holding secrets of who you are, whether it's your sexual identity, your experience of being taken advantage of, wherever you are most vulnerable, that is from where real truth comes. Suppressing the truth due to fear means suppressing who we really are. Moving through our fears makes it possible to respond to where we are being called. Claiming who we are and bringing forth all who we are, then we can live into genuine abundance.
Audre Lorde was a self-described "black, lesbian, mother, warrior poet." As she said forty years ago, "When I dare to be powerful, to use my strength in the service of my vision, then it becomes less and less important whether I am afraid."
Jose Antonio Vargas knows this. He travels throughout the country supporting others who share his undocumented status. When Central American children were being detained by the thousands in McAllen, Texas, he headed there to meet and support them and to bring more attention to their plight. But he was unaware that he was entering a militarized zone that would require him to pass through an immigration checkpoint to leave. There he met with undocumented people who were stuck in that area, who if they tried to leave, they would surely be deported. When he went through security to catch his plane, the immigration agents handcuffed him and detained him for hours. They released him with a statement that he has no criminal record.
When Donald Trump was elected a year ago, Jose Antonio received hundreds of text messages saying essentially, I'm so sorry. His grandmother urged him to go into hiding. His lawyers suggested he lie low, well all of his lawyers except Mony Ruiz-Velasco, the executive director of PASO here in the western suburbs. She told him, "we have your back." So when Nancy Pelosi, the minority leader in the House of Representatives, called Jose Antonio to invite him to be her guest at President Trump's first inaugural address, he accepted. Sitting literally in the heart of power of this nation, he never felt so American. He immediately wrote about this experience in the Washington Post. He said,
I decided to show up tonight because that's what immigrants, undocumented and documented, do: We show up. Despite the obvious risks and palpable fear, we show up to work, to school, to church, to our communities, in big cities and rural towns. … We show up even though many Americans, especially white Americans with their own immigrant backgrounds, can't seem to see the common threads between why we show up and why they showed up, at a time when showing up did not require visas and the Border Patrol didn't yet exist.
I take great inspiration from gay, lesbian, and trans people like Audre Lorde and Jose Antonio Vargas who recognize that silence ultimately is submission, and that authentic power comes from using our strength in the service of our vision to lift up the worth and dignity of every individual. It's time for a new conversation about how vulnerable people are treated.
What deep joy do you hold that is getting suppressed? What fears hold you back that you need to move through?
As we enter the Thanksgiving Season, may we be thankful for the many blessings we enjoy and may we use our blessings to lift up the worth and dignity of all people, thankful that we are a part of a community for whom this work is at the core of who we are.
This was taken largely from a sermon I gave at Unity Temple on November 12, 2017. The podcast can be listened to here.